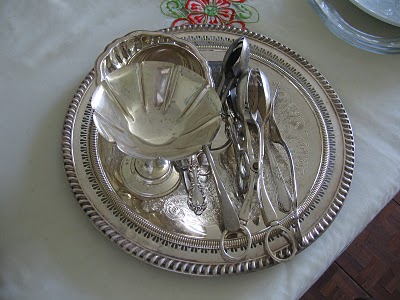 My mom's retirement party has come and gone. We had many guests. Much food was consumed. The two pitchers of sangria and mojitos were demolished. The party went two hours longer than planned and the guests probably would have stayed all night had there been a third apple cake.
My aunt sent my mom capiz shell boxes from the Philippines to give away as favors. I added the lavender sachets I'd printed specially for the party. Mom used her free time to polish all the silver. At the eleventh hour, she decided she wanted an Edible Arrangement but didn't want to pay for one, so I spent an hour cutting fruit, spearing it, and sticking it on a pineapple.
It was so fun. I am so tired. But we're giving ourselves a break from cooking and are now heading to Canter's for lunch.