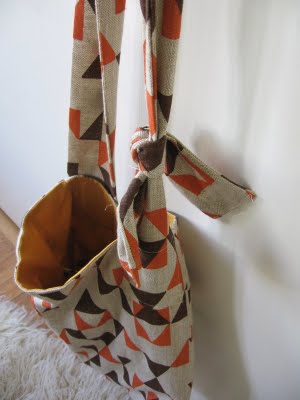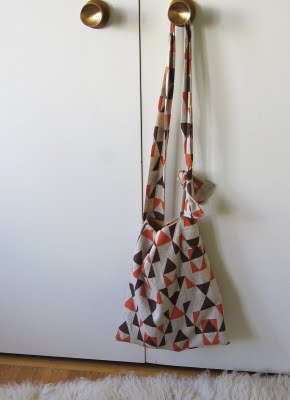 I watched all of Project Runway: Season Two to help me get out of my slump. In the second challenge, Emmett's struggling to come up with a design when Nick tells him "Stop thinking. Just start cutting."
So that's what I did, too. I sketched "nonsense" until I came up with something. And that something is this bag – what I'm calling my "everyday bag." I'd wanted something that I could wear while biking that was a little more feminine than my usual messenger bag. And it needed to be big enough to carry my wallet, phone, sketchbook, and a book. And the straps needed to be an adjustable length.
This bag is just a prototype made with cotton fabric from SCRAPS. The bag pattern is pretty set; now I need to work on a print for the fabric. It'll be made with my screenprinted linen and lined in muslin. And I'll buy some threadcutters so I don't have all those stray threads (which were ultimately what did Zulema in).
But first, I need to test drive the bag for a week to make sure it's sturdy enough to withstand everyday use.