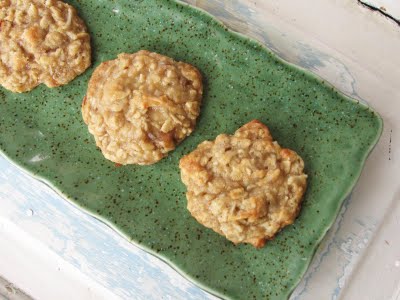 My parents were here this weekend, which means that I was never hungry. My mom spent most of her visit in my kitchen, cooking the Filipino dishes I never make for myself. On Sunday, I didn't even eat lunch because I was so full from breakfast.
But when my mom asked me to make her cookies, I was happy to oblige. We found dates at the Alemany Farmer's Market, so I made her oatmeal-coconut-date cookies. She was delighted; I sent her back to LA with a tin packed with two dozen cookies.
By the way, I have no idea how many cookies this recipe makes. I mean, doesn't that all depend on the size of the mounds of dough? And I've never counted my cookie output since I usually eat a few as they come out of the oven and freeze about half the dough so I can just whip up fresh cookies on demand.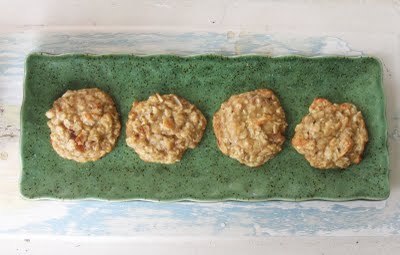 Here's the recipe:
Oatmeal-coconut-date cookies
1/2 c. shortening (if you don't want to use shortening, double up on butter, below)
1 c. packed brown sugar
1 c. white sugar
2 eggs
1 tspn vanilla extract
1/2 c. butter
2 c. all-purpose flour
1 c. flaked, unsweetened coconut
1 tspn baking powder
1 tspn baking soda
2 c. rolled oats
1/2 chopped dates (I sometimes add more if I have more)
1. Preheat oven to 350 F.
2. In a medium mixing bowl cream shortening, butter, and sugars.
Add eggs and vanilla until blended. Set aside.
3. In a separate bowl, combine dry ingredients, withholding the
coconut until all other dry ingredients are blended. Add coconut.
4. Combine wet and dry ingredients until moist. Stir in dates. Drop
on greased cookie sheet about 1-2 inches apart. Bake for 10 minutes or
until golden. Remove from oven immediately- if overcooked cookies get
hard.