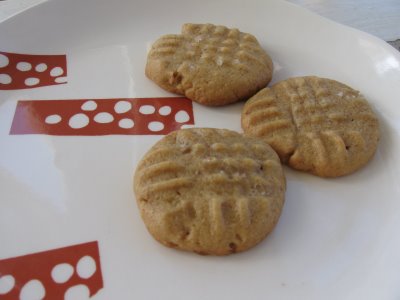 I have a thing for sea salt. That probably makes me something of a San Francisco cliche. One day I expect to see a headline in The Onion that reads "Foodies Develop Goiters after Replacing Table Salt with Sea Salt."
In my quest to use sea salt in even more dishes, I adapted my favorite peanut butter cookie recipe. So good. I might have to make these with bacon next time.
Peanut Butter Sea Salt Cookies
2 cups flour
1/2 tsp baking soda
1/4 tsp table salt
1-1/4 cups brown sugar, firmly packed
1-1/4 cups white sugar
1 cup unsalted butter at room temperature
3 large eggs
1 cup chunky peanut butter
2 tsp vanilla extract
sea salt, to taste
Preheat oven to 350F.
In a medium bowl, whisk together flour, soda and salt.
In a large bowl, blend sugars and butter into a grainy paste. Add eggs, peanut butter and vanilla. Mix until light and fluff.
Add the flour mixture and mix at low speed until just mixed.
Drop by rounded tablespoons onto a lined cookie sheet (parchment paper, waxed paper or Silpat) 1-1/2 inches apart. With a wet fork gently press a crisscross pattern on top of cookies. Sprinkle with sea salt.
Bake for 14-16 minutes until cookies are slightly brown around the edges. Transfer to a wire rack with a spatula to cool.
Makes 3-1/2 dozen.