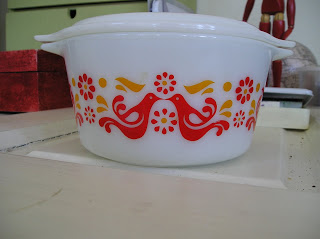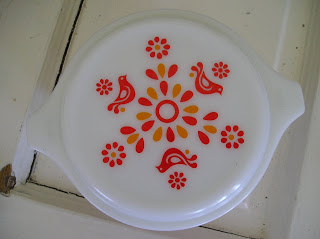 (it's only tangentially related to Pyrex)
My neighbors have been advertising a big yard sale for the last three weeks. They had it yesterday, and it included seven other families. Because it was going to be such a large sale, a bunch of other neighbors decided to host their own sales. A small portion of the Inner Sunset had become yard sale city.
I bought this Pyrex dish for $1. The best part? A purchase of any item at the sale earned you a free scoop of ice cream, complete with whipped cream, chocolate sauce and sprinkles.
Later in the afternoon, Jake and I walked over to the Inner Sunset Community Garden. Four guys (three adults and a teenager) were sitting on the grass, after what looked like a long day of hard, garden work. The adults were drinking beer – and since Jake loves beer, he walked over to them and started sniffing their bottles.
Jake and I ended up hanging out with the guys for about half an hour. Anthony, the teenager, introduced Jake to some form of doggie shiatsu massage. Jake was in heaven – I swear he was smiling.
So, that's all. It was just a nice day to be out in my neighborhood. The longer I live in this area, the more the Inner Sunset feels like a small village.