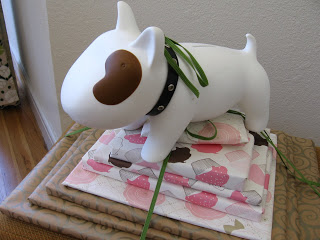 One of my oldest friends is having a baby. She's not really the girly-girl, baby shower type (I don't think she had a bridal shower, and her wedding rehearsal was on the beach two hours before the ceremony itself – everyone just showed up to the rehearsal in their swimsuits). So, she was definitely not thrilled about sitting through three hours of games and blue balloons (she's having a boy).
Oh, and did I mention this party started at 5 pm and included alcoholic beverages? I wanted to hug her.
Anyway, I tried to find gifts that would least cause her to freak out. I realize that I am going to soon become known as Spinster Auntie Jen, because I gave the Monkey (as he's now known) books. Yes, that's right – I bought books for someone who won't be able to read for at least four years. Jake did his part and gave a doggy bank full of change. Oh, and I bought Peepee Teepees. they are absolutely necessary for anyone who's about to have a boy.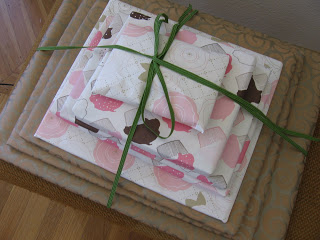 So, the list of spinster gifts:
Doggy bank filled with coins (from spinster's sidekick, Jake)
Snowy Day, by Ezra Jack Keats
365 Penguins, by Jean-Luc Fromental and Joëlle Jolivet
Monster, Don't Eat Me, by Carl Norac and Carll Cneut
Pet Show, by Ezra Jack Keats
Three Martini Playdate, by Christine Mellor
The Lazy Husband, by Joshua Coleman (I must say here that Monkey's dad is one of the least lazy husbands I know of; also, apparently gag gifts don't go over so well at baby showers.)
Pack of Peepee Teepees in camouflage
Pin that says "Stop crying, Emo kid."
All lovingly wrapped in whatever paper I had in the house. I was finally able to finish off the industrial-sized roll of paper I bought from Kelly Paper four years ago!
All accomplished with minimal cutesiness on my part, and very little freak-out on the mom-to-be's part.