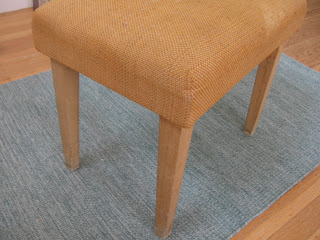 Some of my best furniture finds have come the street (and are usually found while I'm walking Jake). So far, I've adopted the following castoffs from my neighbors:
Set of two, teak, mid-century modern nightstands,
Two antique doors,
A small, painted metal bench,
A green-striped upholstered chair that's so ugly it's almost cute,
A rocking elephant, and
An upholstered footstool from Israel.
The footstool is my most recent find. I'm thinking of buying some barkcloth from ReproDepot and re-covering it: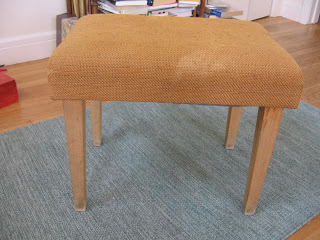 I love the legs on this. The piece is very sturdy, though the fabric could use a good cleaning (or complete replacement).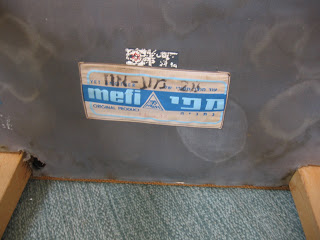 Check out the label in Hebrew!
Whatever fabric I choose for this footstool will, of course, have to coordinate with the yet-to-be selected fabric for my studio chairs. I'm just not sure what color direction I want to go in, and finding interesting patterns in colorways that match my curtains has not been easy. Sigh. I wish I could pop into the Design Center and just buy a yard of something.
Suggestions?