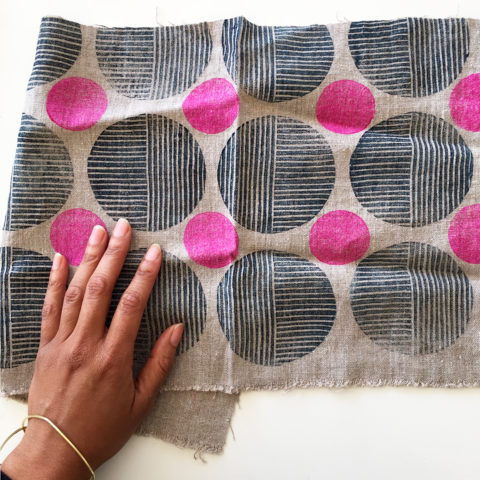 Block Printing on Fabric with Jen Hewett – in Portland, OR!
Date: Sunday, August 13
Time: 10 am – 3:30 pm
Location: Studio of Lisa Congdon, 2808 NE MLK Blvd. (at Graham Street), Portland, OR.
Registration fee: $145
This class is SOLD OUT, and the wait list is closed

Description:
Have you ever wanted to print your own fabric for your craft and DIY projects? In this class, and with a few, simple tools, you will learn how to carve printing blocks and transfer your designs onto fabric. You'll leave with your own, custom-printed fabric, and the knowledge and tools to work on more projects at home.
The class fee covers all the special tools you'll need to get started, as well as a yard of cotton muslin fabric, a tote bag, and a dish towel. You are welcome to bring additional, plain, fabric made from natural fibers to print on, as well. Because sharp tools are used, this class is limited to adult students.
As this class has a high chance of selling out quickly, one ticket per person, please! If the class sells out before you are able to register, please email me at hello@jenhewett.com to be put on the wait list.
An email with information about parking and building access will be emailed the week prior to class.
Cancellation Policy:
You will receive a full refund if you cancel one week or more prior to class. If you cancel less than a week prior to class, you will receive a refund (again, less a $10 cancellation fee) if we are able to fill your spot. In the event that I have to cancel the workshop you will be given a refund.